Quality and Inspection Service
2D or 3D, whatever your needs are, we will cater for them with our extensive range of analysis tools in our quality and inspection service.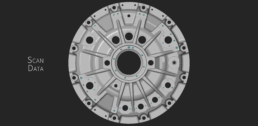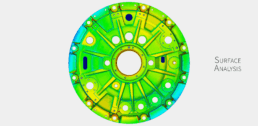 What Challenges Can We Help You To Overcome? 
T3DMC are specialists in utilising 3D scanning data for quality and inspection. We can rapidly analyse your parts for quality control purposes using our extensive range of industry-leading software.
Quality and Inspection can help with:
Reporting for first article inspection

Inspection back to a technical drawing based on datum driven section views
Full surface 3D colour plots of component deviation to CAD geometry

Understanding the influence of a datum system for your component using multiple alignments such as global best fit to understand how the datum features are performing
Point based inspection to verify measurements back to a CMM
Surface defect analysis to better understand the effect of a manufacturing process or wear and tear of a component during use
Increase overall process safety with a fully automated inspection process and full traceability
The use of 3D data allows us to easily create datum systems that accurately construct section cuts as per a customers technical requirement. These sectional views are then used to call out precise dimensional inspections exactly as they appear on the drawing.
3D inspection techniques allow us to fully utilise the power of 3D data. Using full surface data allows us to inspect and understand complex 3D shapes with ease. Surface deviation analysis, surface profile mapping and other complex GD&T can all be reported using easy to understand colour plots across the entire surface of a component or assembly.
Our advanced measurement capabilities allow us to accurately create a 'digital twin' of an aircraft part.  Combining this 3D data with software which has specific inspections for the aerospace industry we are able to produce thorough inspection of turbine blades, fan blades and blisks throughout their life cycle. The list of inspection capabilities is extensive but single-section analysis includes; chord (axial, aerodynamic or bi-tangential), profile thickness, tolerance zones, profile form and position, leading and trailing edge points, camber line, profile centroid and for 3D full surface data analysis include; 3D defect detection and classification (casting residue, wear & tear, impacts), profile form & position, 3D view of stacking axis and throat area (multi blade components).  All this data can be used to adapt the manufacturing process (CNC or laser).
The repeatable capture of accurate 3D scan data enables a trend analysis as part of statistical process control (SPC). Our team can help produce full-field evaluation of several parts or stages within a single project as a first batch analysis or over a life cycle of a component.  This offers functionalities for determining statistical analysis values such as Cp, Cpk, Pp, Ppk, Min, Max, Avg and Sigma.
Our team of quality and inspection engineers will work with you to achieve the desired result.
Whether its inspection to drawing for a single component or a in-depth analysis against CAD for a full batch of manufactured components, we have the metrology equipment and experience to deliver results to the highest levels of accuracy, both quickly and reliably.